---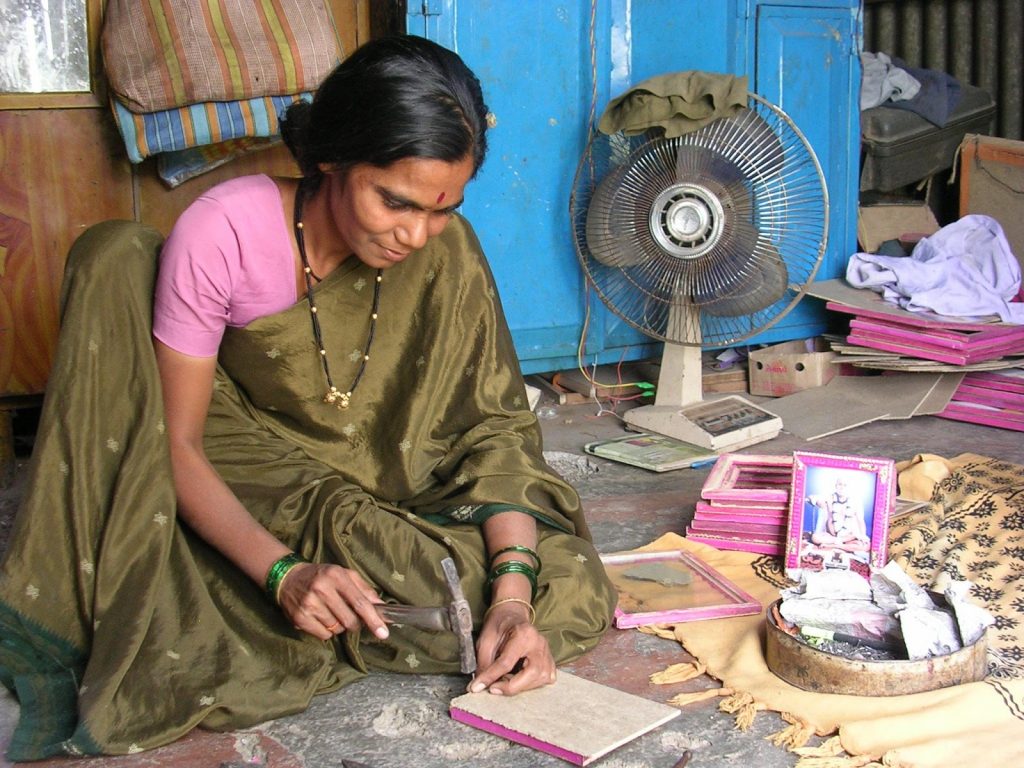 Nandini Lohar's home doubles as her workplace, with the tools of her trade lining the blue walls of her rickety corrugated tin house. The 29 year old woman is a member of the 'Otherwise Backward Castes' and has used microfinance loans from Mann Deshi to finance her growing business making frames for small posters of Gondavle Karmaraj, the local deity of Gondavle, in order to sell them to the 750 pilgrims that visit the temple town each year.
Nandini comes from a caste whose members are traditionally blacksmiths and welders. Members of this caste typically live hand to mouth, earning little more than a few rupees each day sharpening farm equipment and building metal fences, subject to seasonal demand. There are traditionally high rates of alcoholism and abuse and low rates of education within this caste that works so hard and earns so little. Nandini and her husband are extraordinary in the entrepreneurial vision they brought to the decision to convert their existing skills to make framed deity posters for the steady stream of pilgrims. Their story is one of both struggle and success, as they have been able to earn enough to send their children to school and live a life of relative stability.
Nandini used her initial loans to buy the raw materials, tools, and machines necessary for her business. Every year she travels to a neighboring city to buy wood, glass, plywood, glass cutting instruments, and posters, and returns home where she cuts them to size, and nails them together into frames. Her husband operates the larger plywood cutting machine they bought with one of her loans. Nandini has invested extensively in the infrastructure for her business over the last few years, slowly building her capacity to meet her long term visions of expansion.
However, because of her recent expenditures, Nandini has been forced to choose between repaying her loan and buying the additional raw materials she needs for her growing business demands. As the festival season drew nearer, Nandini was  able to borrow additional funds from friends and family, and obtain a temporary loan repayment waiver from Mann Deshi, allowing her to capitalize on the festival season and her new infrastructure.
She says, "When there is season of business and I don't have money for material I become upset and can't sleep wondering where I will manage to get the materials."
Although her slow but steady upward mobility has isolated her from her caste, she believes it has shown her a better alternative.  She has surrounded herself with a community that values education and discourages drinking, and she intends to instill those same values in her young children.
She says with pride, "My life is not like other blacksmiths who earn daily and eat daily."
---