---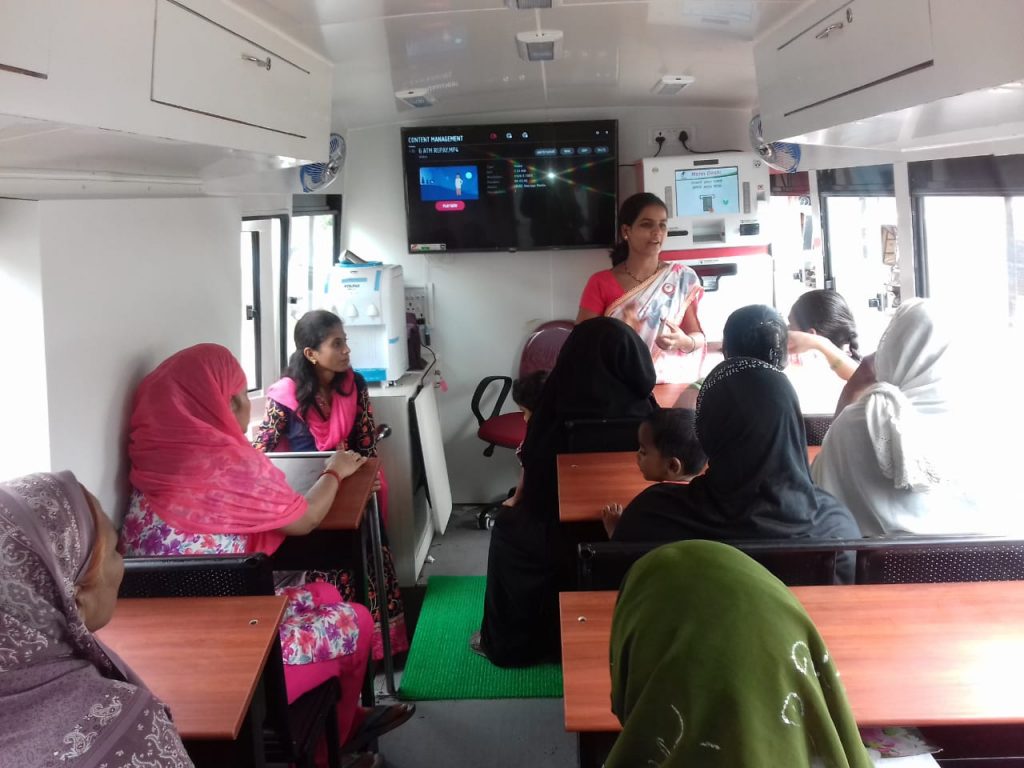 Discover how Financial and Digital Literacy Buses are empowering rural women in Maharashtra to unleash the power of technology for their businesses...
Three years ago, Prime Minister Narendra Modi launched 'Digital India' –a countrywide programme that aimed at increasing digital literacy by connecting rural areas with high-speed internet networks.While the PM's ambitious project may take some time to become a reality, an initiative in Mhaswad, rural Maharashtra, is already taking steps towards his vision.
Picture this. Fifty-five-year old Akkatai Veerkar has never been to school, and works as a vegetable vendor. Today, she listens intently to the teacher in front of her explain the benefits of digital finance. Akkataii's one of 20 women sitting in a bus parked at the Mhaswad weekly market where they sell a variety of household items every Wednesday. "I always thought that using an ATM card was tough and only for educated people.But now I realise how easy it is! I can't wait to start using mine," she says.
Another student, 32-year-old Kanta Tandale, who sells jowari and rice, says that while she has an ATM card, she'd always been afraid to use it. "I am excited to learn about mobile apps that help transfer money. It will make it so much easier to pay the farmer from whom I buy my grains,"she adds.
The Financial and Digital Literacy Bus is an initiative introduced by the Mann Deshi Foundation with the goal of helping rural women have better control over their finances. From its inception, Mann Deshi has encouraged women's entrepreneurship. Now, having become digitally literate, these women can use technology to grow their businesses.
"While introducing women entrepreneurs to the benefits of cashless transactions is one aspect of this initiative, it's larger objective is to connect them to bigger markets, create cash flow records, and generally make business payments easier," says Vanita Shinde, the Chief Administrative Officer of the Mann Deshi Bank.
Designed and supported by the Crisil Foundation and the National Payments Corporation of India, the curriculum covers diverse aspects of the financial and digital worlds. Currently, the programme is run out of two buses—one in Navi Mumbai and the other in Satara. The Navi Mumbai bus was launched last year and is funded by HSBC Skills for Life, whereas the Satara bus, funded by Edel Give Foundation, was launched thisJune.Several more are expected to follow.
Rupali Shinde, one of the many women to have completed the course, is reaping its benefits.Based in Mhaswad, Rupali makes and sells musical instruments and carries out most of her transactions digitally.Interestingly, last month, she was invited to Azim Premji University, Bangalore to deliver a lecture on the topic 'Empowering Women Entrepreneurs in Rural Maharashtra'. During the lecture, Shinde told the students how she has begun to use her debit card for cash withdrawals, transfers, online shopping and mini statements. Her smartphone, too, has got apps for digital transactions.As soon as she finished her inspiring lecture, the university's students ran to click selfies with her.She felt like a celebrity.
In Mhaswad and villages nearby, many women micro entrepreneurs have been inspired by Rupali to adopt digital technology. Ranjana Swami, who runs a beauty parlor in Dahiwadi, not only uses her debit card to withdraw money and make online purchases but also uses a mobile app to send money to her suppliers.
"It is convenient, safe and helps in record-keeping. It has been good for my business too because in the time that I would have spent at the bank, I can cater to six or seven customers." says Swami.
The literacy bus, customised with the latest technology, is stationed all day at weekly markets. It has a dummy ATM machine and wi-fi enabled tablet to teach women how to use mobile apps. It also has a library of movies on cashless transactions and pictorial booklets have been designed in a simple comic book format. In addition, trainers perform interactive puppet shows on financial and digital literacy.Mann Deshi hopes to train 2,000 women this year. The top 50 students will be awarded smartphones.
Meanwhile, in Mahswad, a 50-something lady is asked by the trainer to demonstrate what she learnt so far about ATM machines. Clad in a traditional green nine-yard saree, she walks up to the machine, swipes the card, enters the4-digit pin and confidently withdraws the dummy notes worth 500 rupees. A fellow student says admiringly, "Digital ajji banli pahije!" (You need to become a digital granny!)
By Garima Mishra, Independent Journalist
---