---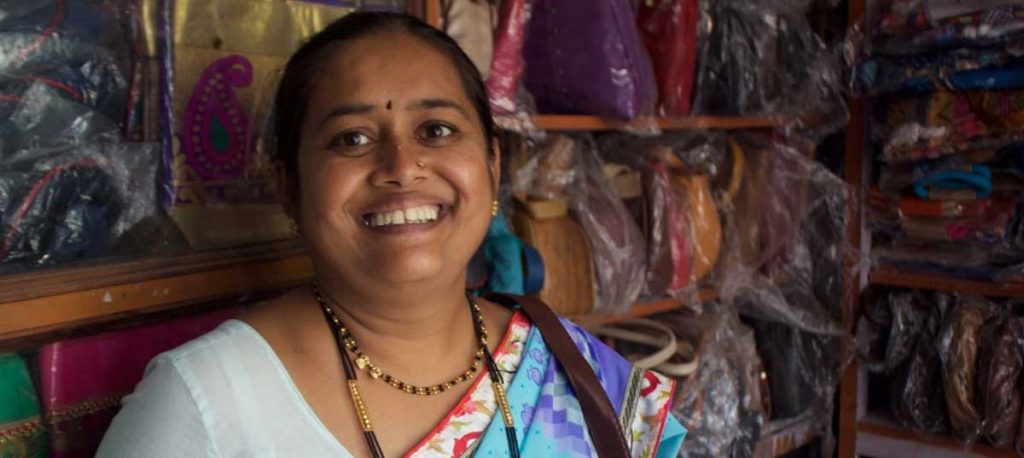 33 year-old Vidya lives with her husband and two children in Bhuinj village. A successful entrepreneur today, she has had to face many adversities along the way. Before setting up her current tailoring business, the family struggled to make ends meet, and Vidya tried to eke out a meager income from looking after her family farm while her husband ran a small real estate business.
When she brought up the idea of setting up her own tailoring and bag-making business, her husband and neighbors criticized it, unsure of how successful it would be. It was then that Vidya was introduced to Mann Deshi Foundation. She decided to enroll in our business school and learn how to expand and manage both her new business as well as her husband's. This was a turning point in her life and as she met more women and interacted with the Mann Deshi team, she learnt new skills and developed enormous self-confidence in her work and ideas. With Mann Deshi's help, she created a business plan, which she then presented to her husband. This time, he was convinced. Recently, he made a movie on his wife's success which he uploaded on Youtube!
"The best part was that Mann Deshi's mobile bus brought trainings to my door-step, I didn't have to go far from my home."
Today Vidya's bags are in high demand and she has her own label. She has successfully repaid three loans from the Mann Deshi Bank. From an initial 3,000-4,000 of monthly income she has come a long way, making even up to Rs. 1,00,000 in a single order! Vidya has set up small stores across Satara city, has a large staff,and has grown her clientele significantly.
"Mann Deshi not only lends to aspiring businesswomen but also handholds them into successful business-planning and repaying these loans comfortably and in time."
Along with managing her business, she regularly holds tailoring classes for aspiring entrepreneurs. She proudly narrates her experience of training a class of 135 women on tailoring and bag-making, standing on a stage and confidently speaking on a mic. She also holds these training sessions at 3 of Mann Deshi's own branches and is also undergoing a Community leadership workshop. Her next milestone is to grow beyond just textile bags, and learn to stitch leather and jute bags too.
Vidya's story is a testimony of what can be achieved with the right skills, support, training, and of course, hard work. She has inspired hundreds of women along the way to join the Mann Deshi Foundation,to set up their own businesses and become financially independent. She is an example of what courage, resilience and the right network can bring to each of their lives.

---