---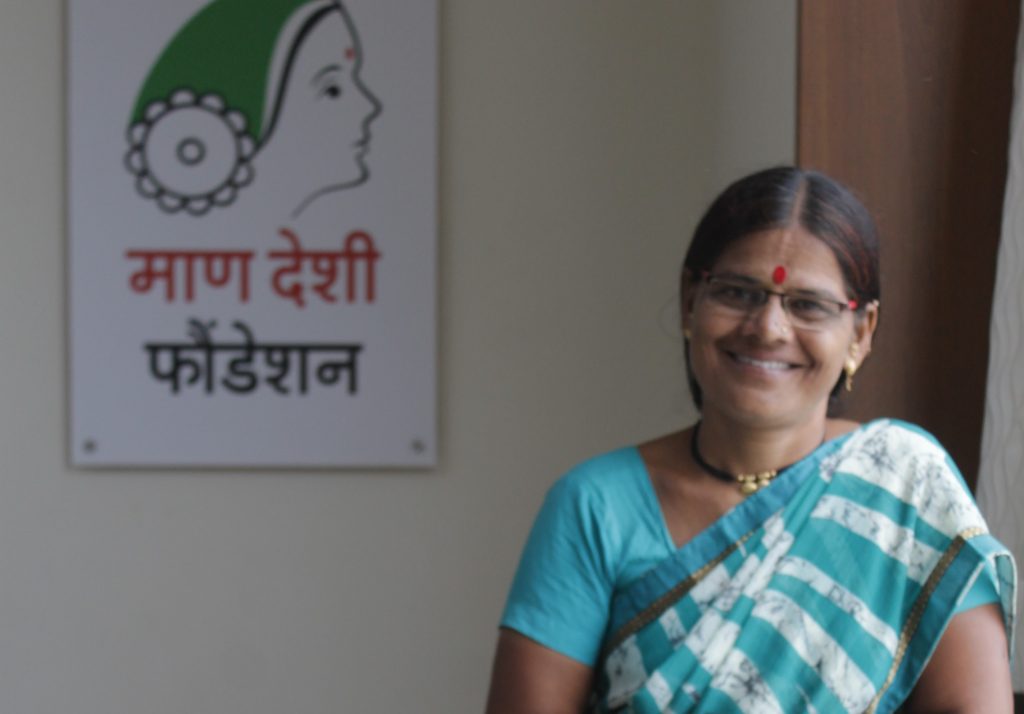 Vanita Pise is a Board Member of the Mann Deshi Mahila Sahakari Bank, the country's first bank set up by and for rural women, and Founder of the recently set up Mann Deshi Kisan Producer Company which aims to organize 12,000 small and marginal farmers (70% who will be women) to secure better prices for them.
Sitting at her desk in her office, Vanita Pise is supremely confident, enthusiastic and upbeat as she talks about her work. Doling out instructions and tasks to her team, particularly men, she appears in complete control. Today she is particularly busy, with a lot of catching up to do, having recently returned from London after delivering several lectures on her journey as a rural micro entrepreneur.
It's hard to imagine that this ambitious and highly capable woman hasn't even finished high school. "Before I became associated with Mann Deshi, I was too shy to even speak to my neighbors," she smiles, "And today I'm the first woman from my village to have gone abroad by myself on work!"
Pise has an inspiring story, one that shines with its steadfast determination and hard work. No surprise then that she is not only a successful serial entrepreneur today but also a role model for many women in Mhaswad and Mann taluka.
Pise, born and brought up in Malshiras in Solapur district, married a farmer based in Mhaswad when she was seventeen years old. Within a week of her marriage, she was asked to work in their poultry shed. "I had never entered a poultry shed before. When I stepped in, the stench almost choked me. But I persisted and soon I became really good!," she laughs. By the time she was twenty, she had three children and when their poultry business went bust because of an outbreak of bird flu, she became a
daily wage labourer.
Around 2004, she heard of Mann Deshi Bank and its work with rural women. Ever enterprising, she took a loan and bought a buffalo. Within a week, the buffalo delivered a calf and Pise began selling milk. With her earnings, she repaid the loan in six months. Emboldened, she took another loan and bought a paper cup machine.
Six months later, ten women from her village, seeing how well she was doing, asked her to help them set up the same business. Pise helped them all get loans and machines. But when their raw materials supplier stopped working with them, things went downhill. Now not only were the women angry with Vanita, blaming her for their debt and business crisis, but her family was also extremely upset.
Unwilling to give up, Pise went back to Mann Deshi, upgraded her financial management and business skills, and took another loan. Her efforts paid off and within a short period, not only had she repaid her debts, but she also bought the machines from the ladies she had helped and them hired them as employees! And to make it all worthwhile, in 2006, she was recognized for her determination and awarded the CII Foundation Woman Exemplar Award, which she from then Prime Minister Manmohan Singh. She used the award money to set up two new businesses!. In 2012, she was appointed as a board member of Mann Deshi Women's Bank.
While it was the first time Pise travelled abroad, she regularly participates in lectures, conferences and workshops on rural entrepreneurship across the country.
Ask her what is the best thing that she liked about London and the workaholic in her replies, "In many cities and villages of India, you may find a group of people standing here and there, generally chit-chatting and whiling away the time, but in London it's not the case. Every individual is engaged in some or the other work. If people in our country also become this hardworking, our country will leave behind many developed nations."
---