---
Balutai Mane has six children –five daughters and one son –and a husband who is an alcoholic who is unable to work. A few years ago, working on other people's farms as a daily wage labourer fetched barely enough to make ends meet.
One day, she heard about a goat farming course that was being offered by Mann Deshi. Convinced that this could possibly be a lucrative side business, Balutai decided to enroll. Balutai says that she gained a lot of confidence after the workshop because her teacher was a woman just like her, and she heard many stories of other women who were previously daily wage labourers and had then made some decent money running goat farms.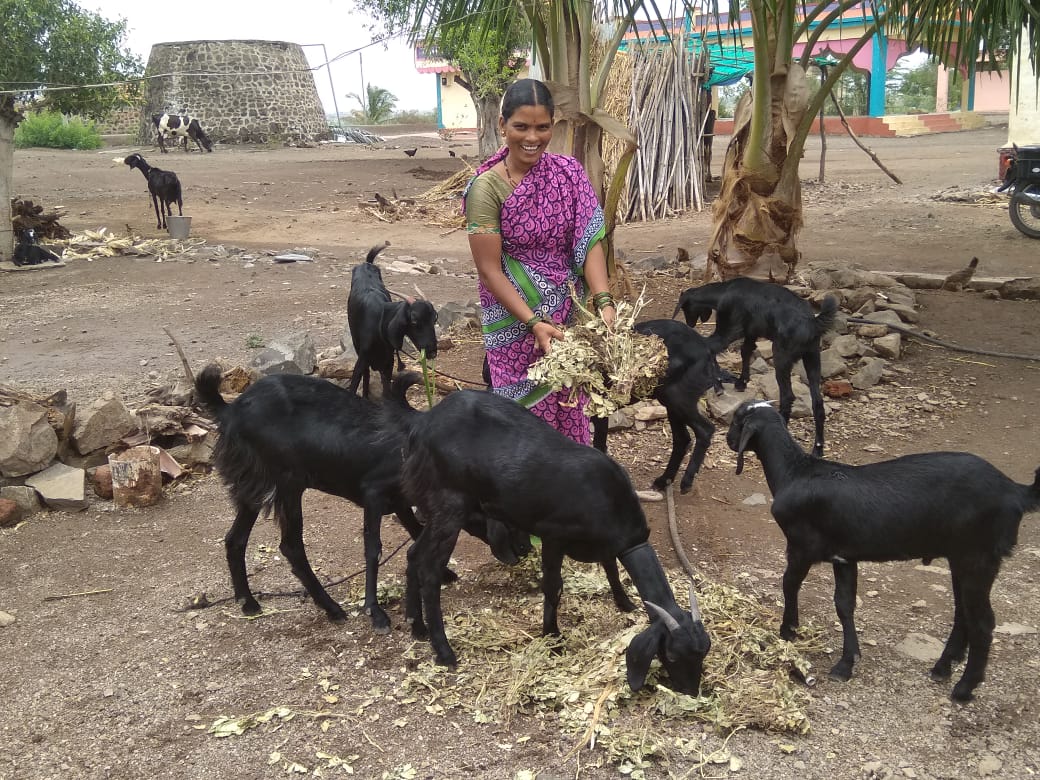 Inspired, she decided to start a goat rearing business. Since she did not have the capital to buy any goats, she took a INR 20,000 loan of from a local Self Help Group (SHG or Bachat Gath) and purchased two goats. She sought assistance from Mann Deshi's goat doctors to administer artificial insemination to her goats and soon both of her goats became pregnant and had two kids each.
Today, Balutai has repaid her loan and grown her herd to six goats, and, she says she is fortunate that she doesn't have to go to the animal market anymore, as people come to her house because they know they will be able to buy healthy goat kids. She also owns 10 chickens, a small flour milling machine from which she generates additional income and has taken a contract for Rs. 2000 a month from the local aanganwadi to cook the centre's mid-day meals.
Her son completed his education and started working alongwith Balutai's husband to support the family. Balutai hopes to take another loan from the Mann Deshi Bank and buy a buffalo.
Balutai says: "I am very proud that I am earning enough to support my family. Not only am I a successful goat farmer, but I've introduced many of my friends to Mann Deshi's goat farming workshops and encouraged them to set up their businesses. Earlier there was little awareness in our area about how to care for goats, and government veterinarians did not come to this area. Now, thanks to Mann Deshi and its goat farming and goat doctor's programme, people here can raise healthy goats and make a decent livelihood."
---