---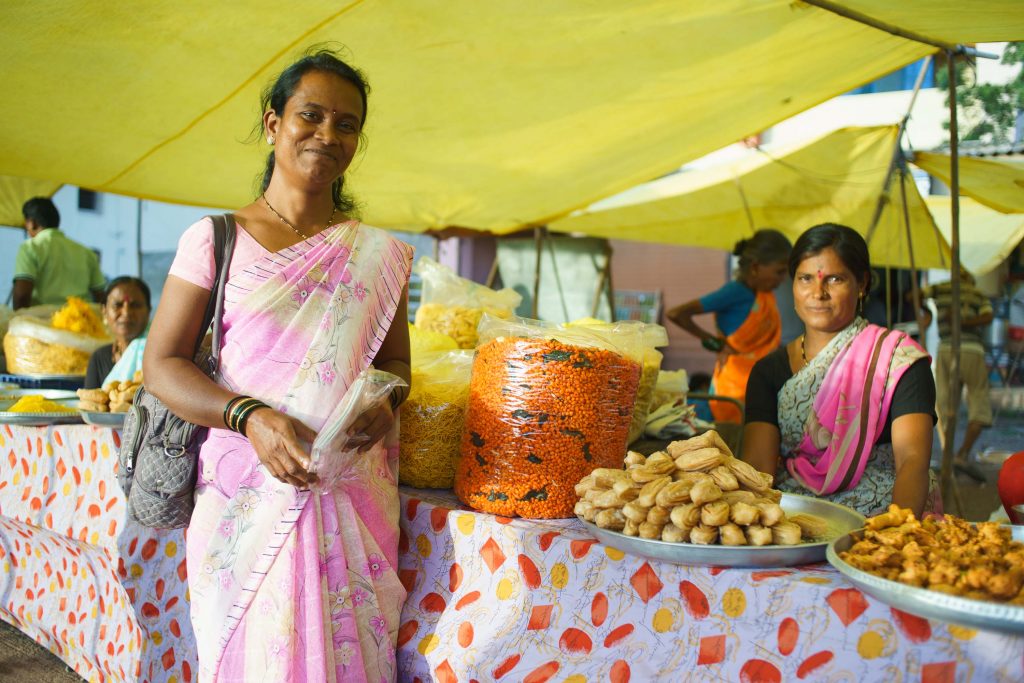 How an innovative loan product is supporting women micro entrepreneurs in rural Maharashtra grow their businesses
It's about 1.30 pm in Mhaswad, Satara. The weekly market that offers a variety of products is buzzing with activity. More than 1,000 vendors --both men and women-- can be seen selling an array of items-from vegetables and spices to snacks and household items.
Amongst these vendors, sitting in a squat position on the floor, surrounded by different types of fresh veggies neatly placed in wooden baskets, is Sangita Ramachandra Kakade(32), who is busy attending to buyers. It's been a good day, she says. The moment she spots a field officer from the Mann Deshi Mahila Bank approaching her, she flashes a smile in greeting. Sangita tells the officer that she would like to repay Rs 500 towards her loan just like the previous week. Carefully removing her bank passbook from a bag, she hands it over along with Rs. 500 to the field officer, who immediately makes an entry of the transaction on the mobile app on her cellphone. Hearing a beep on her cellphone, Sangita checks the SMS received about the repayment and smiles happily.
In Flashback
In the last four years, Sangita has taken fifteen loans from the Mann Deshi Mahila Bank under its Weekly Market Cash Credit Loan - the amount ranging between Rs 10,000 to Rs 40,000 each time. So far, she has never failed to repay a loan. The loans have not only helped her expand her vegetable business but have also doubled her income and profit, significantly raising her family's standard of living. They have moved from a single room hut in Malshiraj (Solapur) to a tin-roof pucca home with four rooms. The couple also recently bought a two-wheeler.
A few steps away from Sangita, 34-year-old Vidya Jagade can be spotted managing a snacks counter that offers bhajji, sev, jalebi and laddoos. "Two years ago, I was barely able to manage my household expenses. But once I took cash credit loan of Rs. 30,000 from Mann Deshi, things changed. Now, not only am I able to meet all my expenses and repay my loan, but I am also able to save about Rs 1,000 a month," says Vidya.
Just like Sangita and Vidya, hundreds of women in Satara district have similar stories to tell. These women have come a long way over the past few years and their journey was made possible with the Weekly Market Cash Credit Loan scheme.
The idea of introducing this Weekly Market Cash Credit Loan was born in 2012 when Mann Deshi's founder Chetna Sinha was walking around a weekly market and met some women who had savings accounts with the Mann Deshi Bank. During the conversation, she was shocked to discover that though these women were members of the bank, they were borrowing from moneylenders. They said that the moneylender gave them as much money as and when they needed it and allowed them to repay according to their convenience. While the interest charged was very high, it was afee that they were willing to pay. That set Sinha thinking and with technical support from the Deutsche Gesellschaft fur Internationale Zusammenarbeit (GIZ) Gmb Hand financial assistance from EdelGive Foundation, the Weekly Market Cash Credit Loan scheme was born.
The product was launched on a pilot basis in July 2013. "In the first year, we had just 120 women from two villages --Mhaswad and Gondhavale. Now, we have nearly 10,000women operating across 48 markets from 150 villages of Satara, Pune and Solapur districts," says Mrunalini Phadtare, who heads the Doorstep Cash Credit Programme.
Why Weekly Market Cash Credit Loan?
There are nearly 70,000 rural weekly markets in the country. Full of life, noise and vitality, such markets are an event that every villager looks forward to. For rural women entrepreneurs, these weekly markets are an important source of income and typically, women like Sangita and Vidya sell at four to seven markets a week. While a few of these entrepreneurs buy the items they sell from either wholesalers or farmers, many produce their wares themselves. The profit margins are quite lucrative - nearly 30 per cent.
What these women need most is working capital. Till now, they were struggling to raise it and resorting to borrowing from moneylenders at high interest rates ranging from one to 10 percent a day. Due to their unpredictable income, they didn't find traditional loan terms viable. "Besides, they also felt that the time spent visiting a bank to apply for a loan and repeatedly following up was very time-consuming," explains Vanita Shinde, the Chief Administrative Officer of the Mann Deshi Bank.
What is special about this loan, Shinde adds that it is tailor-made to meet the requirements of women micro entrepreneurs and offers this service at their doorstep, which is free of charge. The product is given to Joint Liability Groups, with each group comprising three women members who are not related to each other and who conduct businesses in the same weekly market. They should also have a minimum experience of two years of working as retailers. Women can apply for loans between Rs 10,000 to Rs 40,000 at an interest rate of 26 per cent per year (on a reducing scale).The bank also provides free financial literacy training which supports them manage and plan their business and finances better.
This customised loan has helped women entrepreneurs sell new, profitable and better-quality goods. "So far we have given nearly 23 crores under this scheme. It's an expensive product but we are able to make between five and six per cent profit a year,"says Shinde."Given that it is profitable and that there are so many thousands of markets, this approach is ripe for mainstream banks to adopt. And it will make a significant difference to rural women and economies."
Making A Difference
When Draupada Bharade Khatav, 40, looks back at her life, she cannot believe her good fortune. From working as a daily wage labourer and earning a paltry sum of Rs 40 a day, she now owns four shops and two acres of land. Her life has been transformed.
"I got to know about Mann Deshi Bank's cash credit loans through a friend who sold vegetables in the weekly market. I did my own research and found that there was money to be made in selling sprouts. Five years ago, I took my first loan of Rs 20,000. Since then I have borrowed and repaidRs 4 lakhs. While I began by selling sprouts only in Gondhavale market, I now sell in six more weekly markets," Draupada says.
Like Draupada, Kavita Pise too has witnessed an improvement in her financial situation after taking Mann Deshi Bank's cash credit loans to set up a dairy business. "My family and I used to live in a hut. Now, we have a concrete house with four rooms," she says excitedly.
Many women echo this sense of pride in bringing about an improvement in their family's economic position. They feel much more confident both within their homes and about their businesses."We get more respect at home now and our opinion is counted in all matters," says Suvarna Kaldhone.
Micro Finance to Macro Entreprise
The success of cash credit loan proves that with a little financial assistance and guidance, women micro entrepreneurs don't just flourish but also have the potential of turning their small businesses into larger enterprises. According to a study, it is estimated that the GDP of India could increase by nearly 25 per cent if both genders were fully engaged in the workforce.However, owing to the prevalent perception amongst most financial institutions that women are 'high risk borrowers', mainstream banks have not reached out to them.
A report published by the International Finance Corporation (IFC) in 2016 says that women-owned small and medium enterprises (SMEs) represent 30 to 37 per cent (8 to 10 million) of all SMEs in emerging markets. These businesses, according to the report, have an unmet financial need of up to 300 billion dollars. This lack of working capital is their biggest barrier to growth and development.
Mann Deshi Founder Chetna Sinha observes that the focus of mainstream financial institutions across the country has been to try and fit women into pre-existing loan products rather than understand their specific needs and design products accordingly.A one-size-fits-all approach cannot work, says Sinha, adding that the sector has not been very responsive to the needs of low-income groups in general.
"Having worked with rural women for so many years, I strongly feel that they are very enterprising and eager to learn. We need to empower them by providing a supportive environment that offers a convenient channel to build working capital, and a platform that educates them about the latest technologies that they can use to boost their businesses and get access to customised services for expansion, debt counselling and means of refinancing," says Sinha.
By Garima Mishra, Independent Journalist
---