---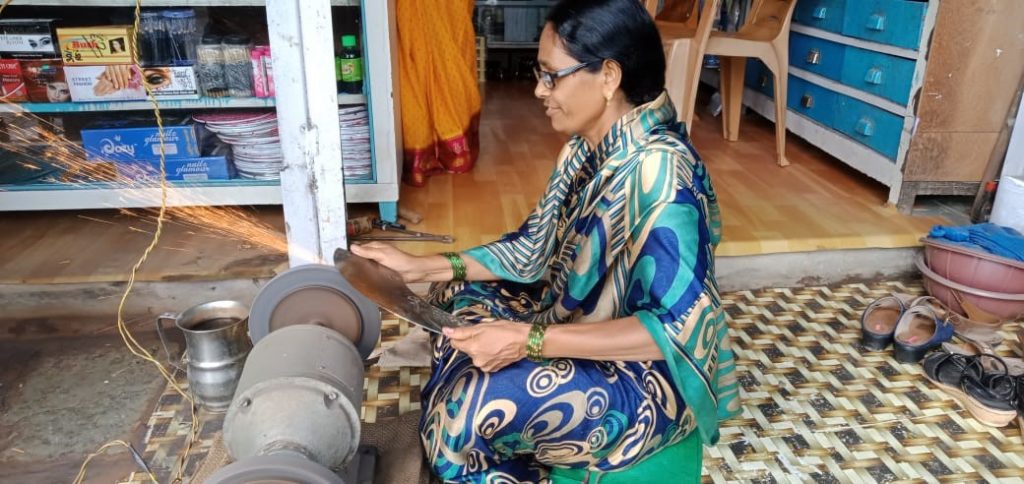 There was a time when Mallika Shikalgar used to be unsure about where her next meal would come from. Managing expenses for her home of eight children on her meager income gave her regular nightmares. Today, she earns nearly Rs 800–1000 per day. She has educated all her kids, and each one is earning well for themselves. Mallika's journey over the past three decades has been tough; but she has always proven to be tougher.
In the late 1990s, Mallika's husband and father-in-law used to earn well. They had a stationary shop in Vaduj, an iron tools sharpening shop in Mumbai and a third shop in Karad. Life took an unfortunate turn when her father-in-law got falsely implicated in a legal case and the family's entire earnings were drained by fighting the case. Her husband stopped supporting the family financially and was rarely at home. "We reached a point when we were forced to make do with Rs. 15-20 rupees for our daily expenses. That's when I decided to shift the sharpening machine from Mumbai to Vaduj, where we stayed. I learned how to sharpen tools on my own and began to take odd jobs.
The very first day, I earned Rs 80 and realized that if I worked hard through the day, I could earn enough to support my family," recollects Mallika.
Within a few years, she added another business. She bought bangles from the wholesale market with her savings and started selling them from door-to-door. However, since this took time away from her sharpening work, her cumulative earnings fell.  She then approached the Mann Deshi Mahila Sahakari Bank for a loan to set up a small bangle shop. Her sharpening machine now stands outside the bangle shop and she has repaid several loans that have helped expand both her businesses successfully.
"The biggest lesson I have learnt is that there is no better teacher than tough times. Today when I look back, I realize I have come a long way. I am happy that I was able to educate my children and make them financially independent," says Mallika.
---