---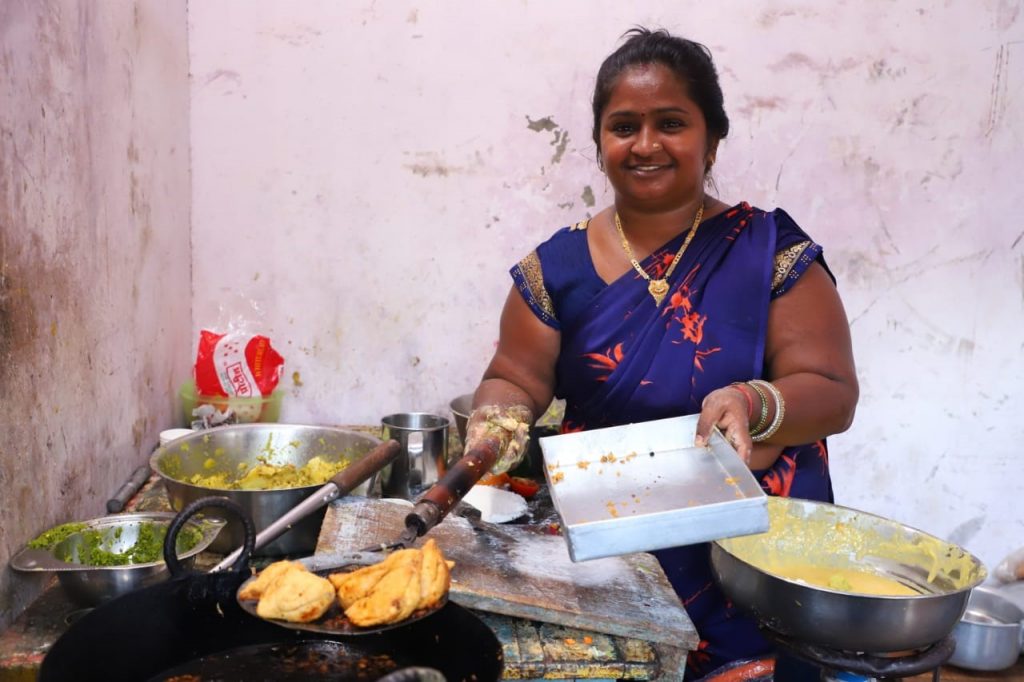 Students flock to Sushma Chaudhary's fast food stall in Silvassa (Gujarat) which they affectionately call 'Aunty ki tapri.' It's hard to believe that just a year ago, when this eatery opened, Sushma was filled with trepidation. Today, as scores of customers have become her regulars, many of whom have her on their speed dial, she is full of confidence and positivity.
Ten years ago, her husband's friend asked the couple if they would look after his snacks stall for a week while he was away. The couple agreed. While the friend's stall had sold only idli-sambar for years, Sushma on her own initiative added vada pav to the menu. "I knew that most people like spicy food, and this addition became such a big hit amongst customers that it sold more than the idli-sambar!" says Sushma.
By the time the friend returned, though the couple gave back the stall, Sushma was hooked and realised that cooking was a skill that could make her financially independent. Coincidentally, one of her friend's customers approached her to make him daily tiffin. She readily agreed. Within a month, the satisfied customer's company gave her contract to supply 50 tiffins on week days and 100 tiffins on Sundays.
Over the next nine years, Sushma's tiffin business and financial situation improved considerably. However, the company which had given her the tiffin contract was taken over by another firm and everyone, including Sushma, was laid off. Sushma was back to square one. Although many suggested that she start her own business, Sushma wasn't sure if she would be able to run one successfully.
In February 2019, she was introduced to the Mann Deshi Foundation's Deshi MBA programme. "I joined and met a lot of women like me - who were not very educated, were from villages and had managed to run small businesses successfully. This boosted my self-confidence."
"The workshop taught me all the basics of finance, management, and building a customer base," recalls Sushma, who started a snacks stall outside a college in Silvassa within days of joining the course. Her customers kept growing and 'aunty ki tapri' became popular amongst youngsters. Sushma started by selling vada pav, but she soon added soft drinks, ice creams and noodles to her menu.
"My student customers are very supportive. A few of them have even taught me how to use digital payments," she says proudly.
---